Jem is nearly 16 years old and has had a rich and busy life as Dog Walk Tester-in-chief for the Driving with Dogs website. Like many elderly dogs he has a touch of arthritis in his back legs and finds leaping into the car a struggle these days. Getting onto the bed is no problem though! He gets turmeric based supplements with his food, and has recently started on prescription meds for pain control. So we looked round for gentle therapies that might help with his mobility and keep his confidence levels high as well.
His vet mentioned a good, local hydrotherapist so as soon as lockdown allowed Jem went along to meet therapist Debbie and to have a good sniff at the pool and surroundings in an initial consultation. Debbie had carefully prepared for the session with up-to-date health details for Jem and permission from the vet. She had dog toys for Jem to play with while we had to do the essential paperwork before pool time. That went well and Jem loved the countryside scents around the therapy barn. He had obviously decided this was a fun place to be. So we went ahead with his first session.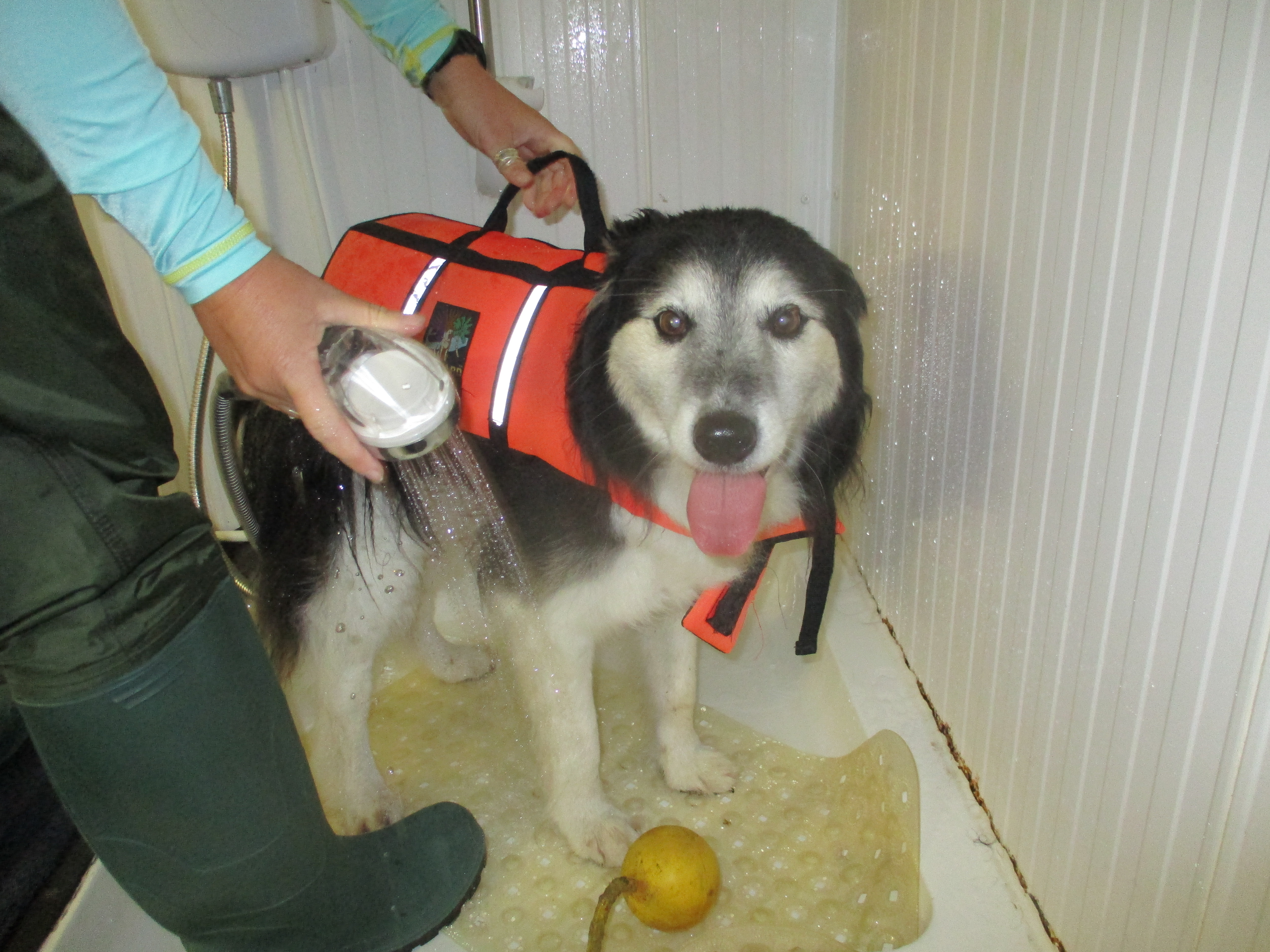 First up, a shower to make sure the pool stays nice and clean. Jem adores dressing up so the safety jacket was a big treat, and also kept him feeling secure. At his age, over a hundred in human years, balance can need a bit of help and the support harness worked well.
Then into the pool for treatment. I had no idea how Jem would feel about a pool. He loves swimming in the sea, lakes and rivers but has never been invited into a pool before. The water too is warmer than the icy Peak District rivers he likes best. In the event he behaved like the cool dude of a dog he is, and took it all in his stride.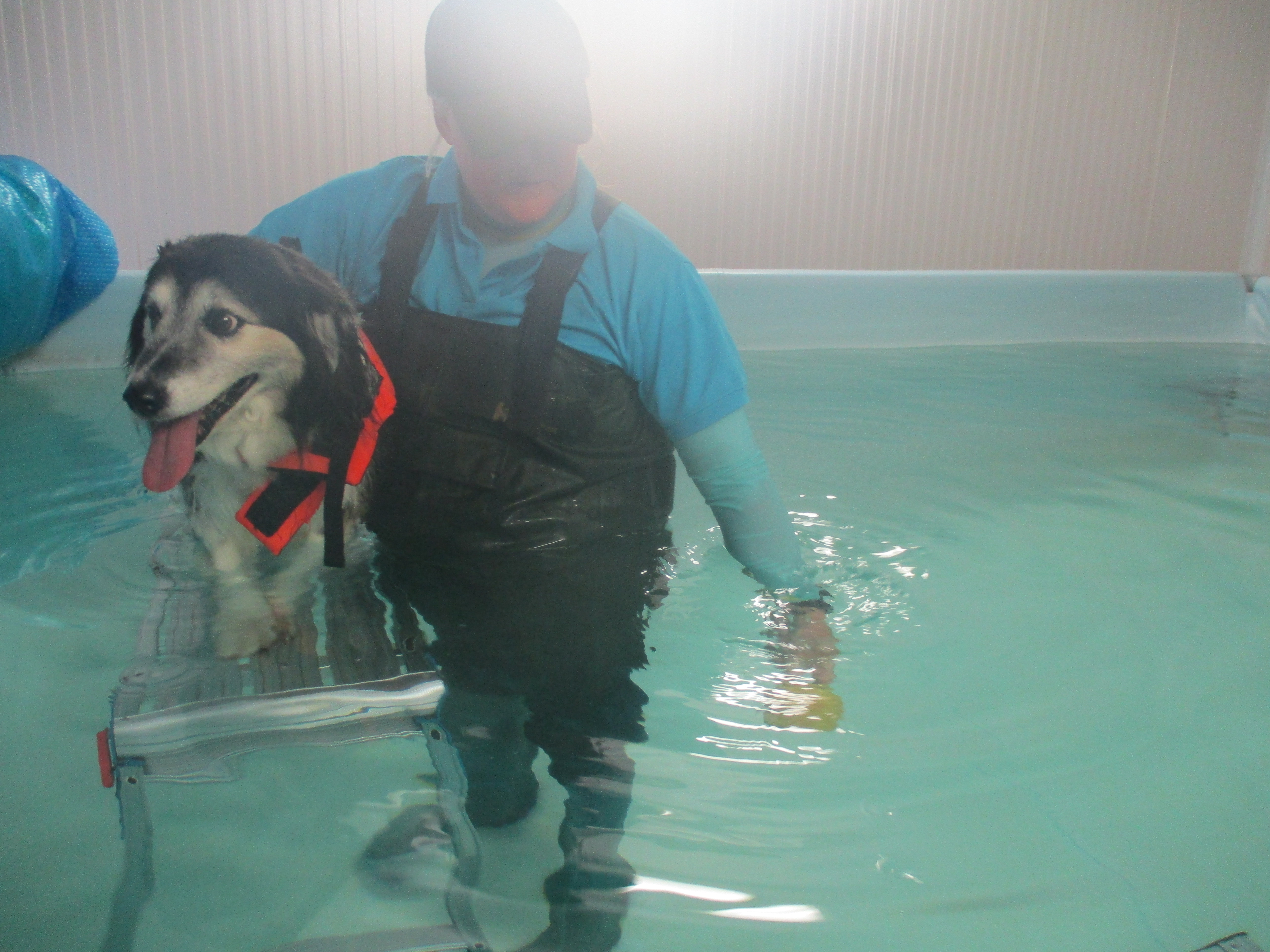 The session was a mix of short swims followed by targeted massage and a breather for Jem. Swimming takes a lot of energy for an elderly pooch and Debbie was careful to make sure he had plenty of recovery time. And Jem was delighted to relax into the massage.
After the session there's another shower to remove any trace of chlorine from the pool, and a big towel dry. Then a juicy treat for good behaviour, and a big snuggle in his favourite drying jacket from Dog Robes and home for a spot of snoozing.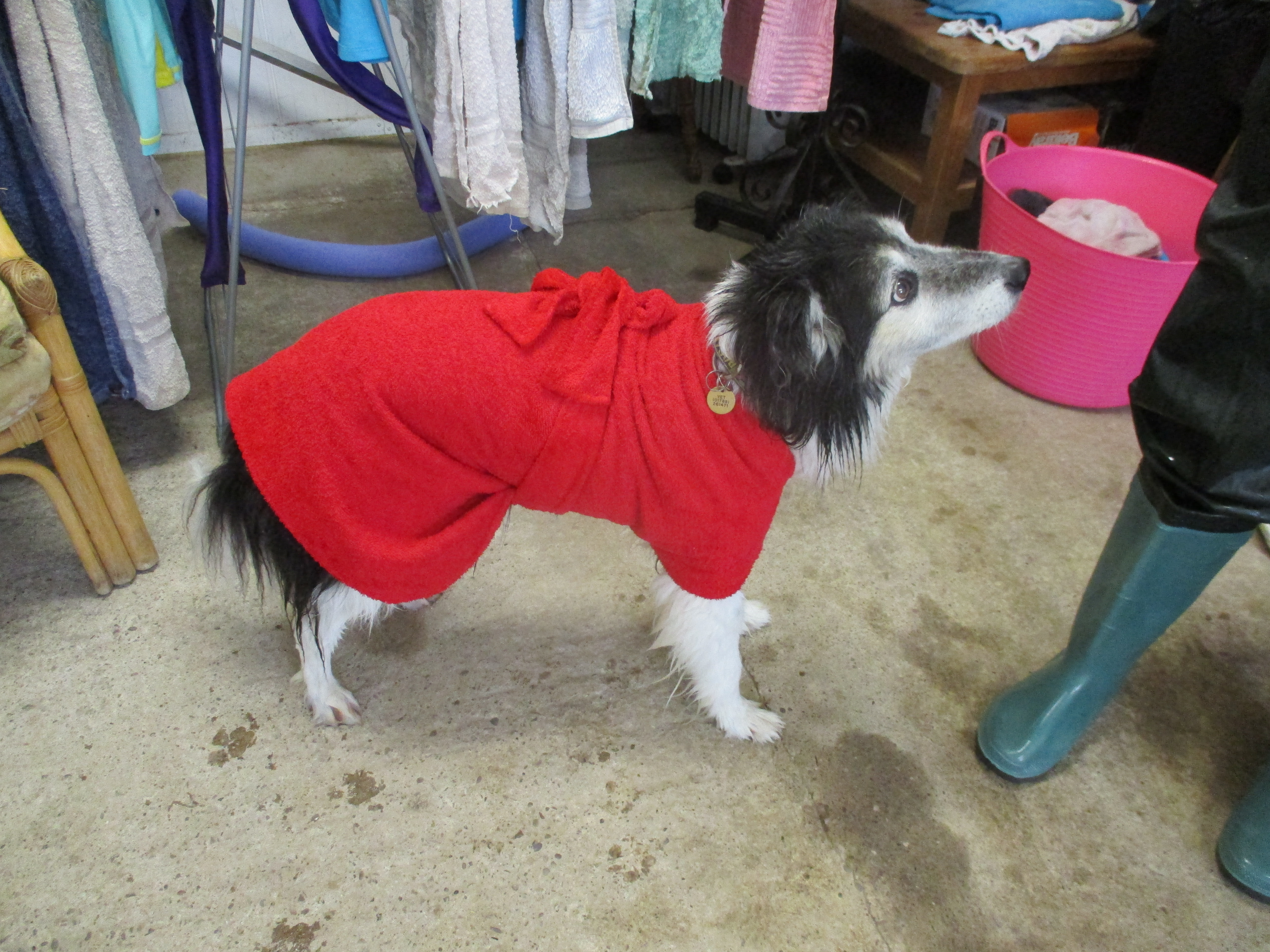 How to choose a hydrotherapist for your dog
Like many complementary therapies you need to do your research before taking your dog for treatment. A reputable practioner will request permission from your vet before treating your pet, and many vets will recommend a reliable therapist.
There are two professional bodies with lists of registered members. The Canine Hydrotherapy Association (CHA) and the National Association of Registered Canine Hydrotherapists (NARCH). Therapists have to study and train at various levels before they qualify and these organisations are a good place to start looking for a knowledgeable and certified expert for your dog (or cat).
Jem is being treated by Debbie at Avonside Canine Hydrotherapy near Bidford-on-Avon in Warwickshire.