Every now and again we do a roundup of your questions and share them with all members. This time it's all about making a personalised Driving with Dogs App on your phone. Jem explains how to use Favourites to plan and make an easy-to-use personal App for your journey.
Start off by signing into your Driving with Dogs account on your phone, tablet or laptop and click on 'Account' in the top right corner. Then click on Your Favourites and select 'Create List'.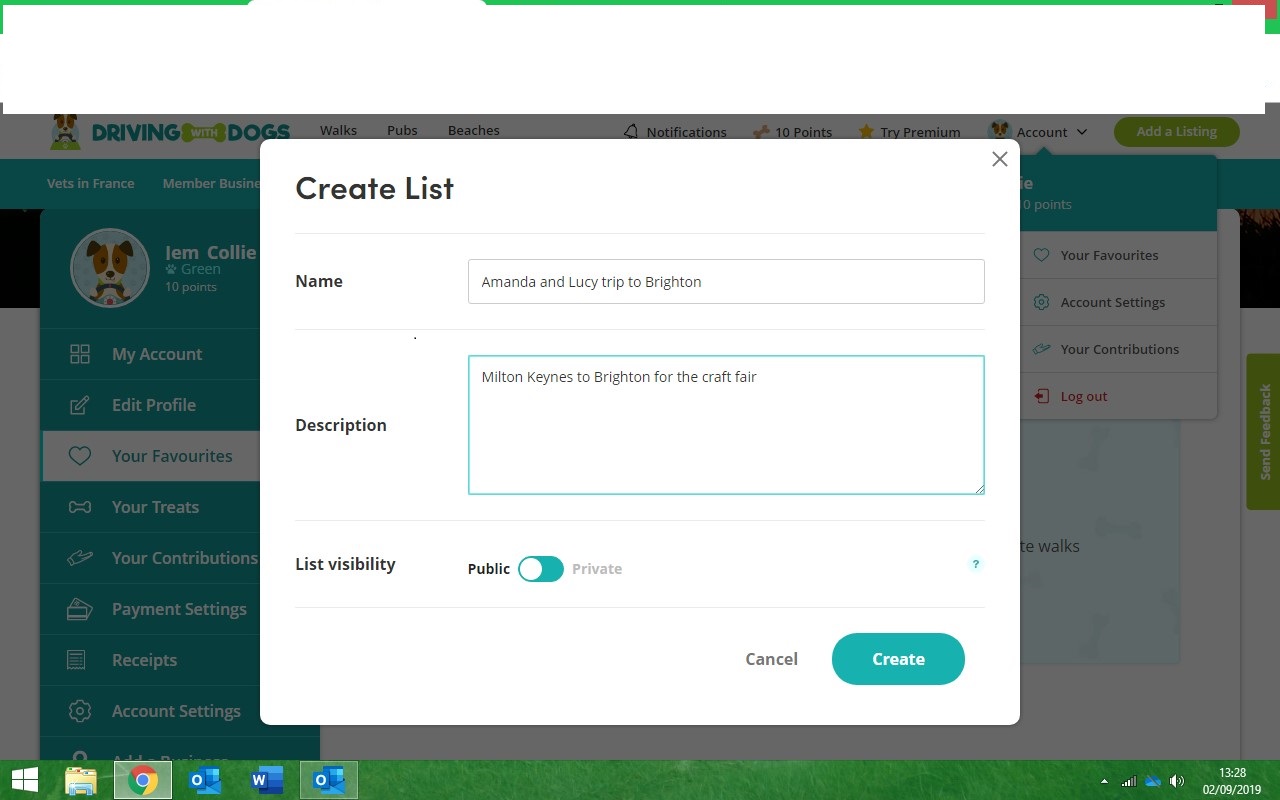 In the example here we've used a trip that Emma made with her friend Amanda, and Lucy the terrier. Amanda started from Milton Keynes and went to Brighton for a craft fair, so we added that to the description. She'd hired a big white transit van so we ticked the box for 'no height restrictions' to make sure she could park easily.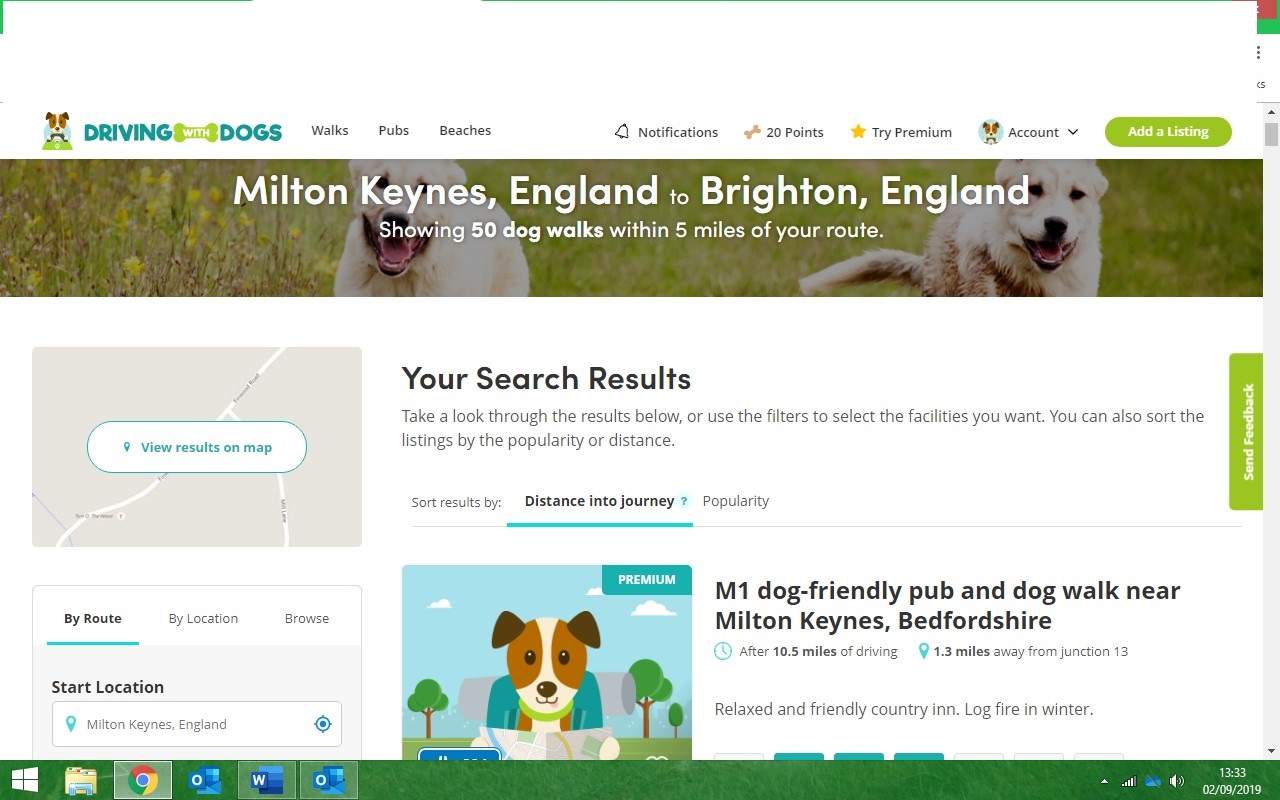 So that gave a choice of 38 places to stop. That's loads, so we added Free Parking, Refreshments and WCs to the filters too. Still 33 places.
Amanda wanted somewhere to walk Lucy as soon after getting round the worst of the M25 as possible. So we chose the walk near Junction 8 with a friendly cafe, clean loos and a huge space for Lucy to enjoy. To add this to Favourites, just click the heart symbol in the bottom right corner of the photo. It'll tell you that the walk has been added to your journey planner.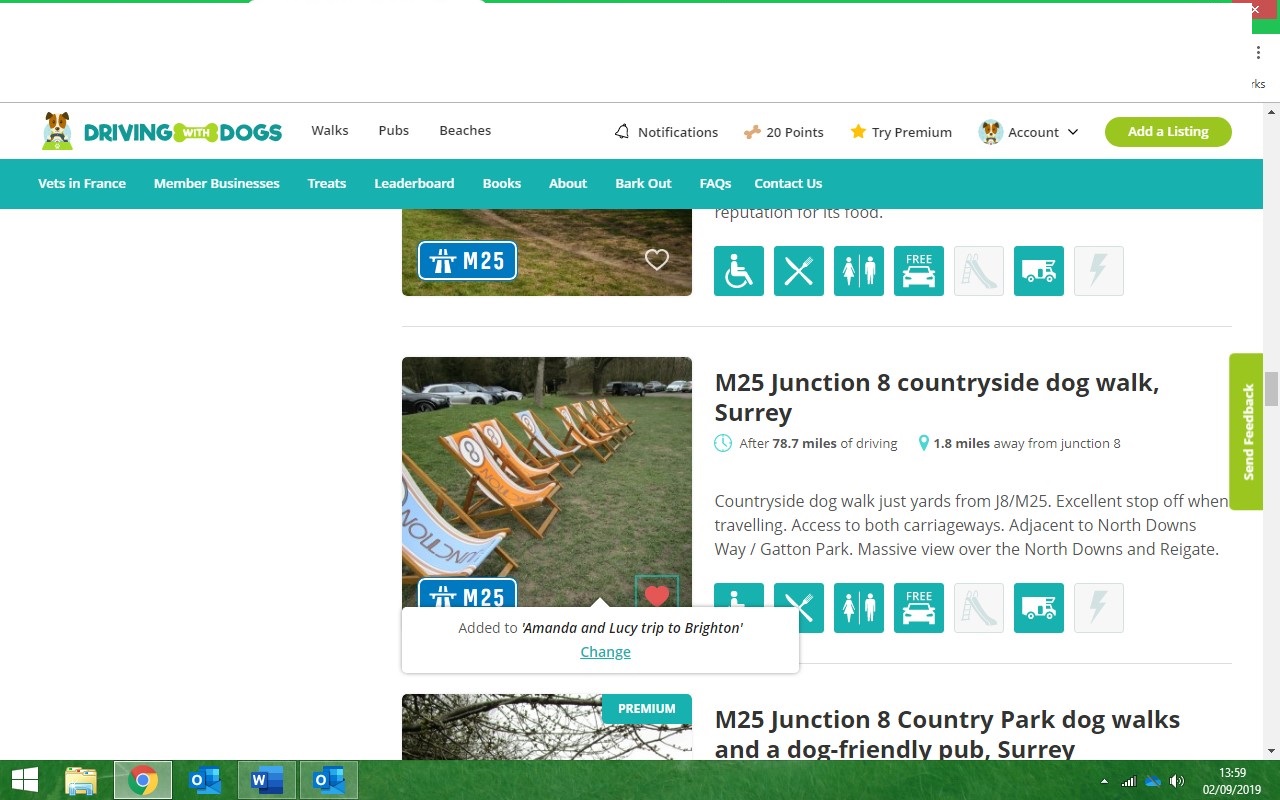 Keep on adding as many places as you like the look of. It's always handy to have a few stops in reserve so you always have options if a road is closed, or your drive is going quicker or more slowly than you expected. Don't forget to plan for the trip back too!
You can add routes, but with different filters to your Favourites. This really makes sense if you drive with the dog and different passengers. You can add routes for with the kids, and 'with Gramps + mobility scooter', etc. Always make the new folder first and give it a name, then click on Walks (at the top), select your filters (e.g. no height restrictions, things for kids to do, EV charger, etc), put in your route and then choose your doggiestops.
Then add Driving with Dogs to your phone display. On most phones this is very easy. Open www.drivingwithdogs.co.uk and sign in. Go to your membership account page and open Favourites. Then click on the three buttons at the top right of your phone.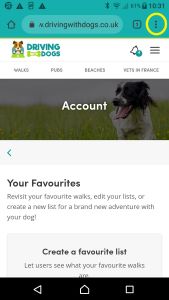 Select 'Add to Home screen'.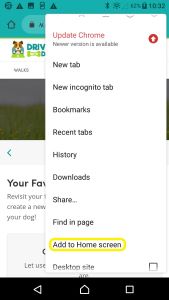 When you go back to your phone's home screen, the Driving with Dogs icon will be there.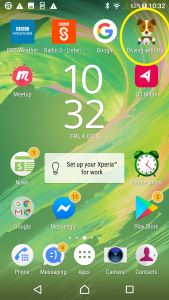 Hope you find this helpful and easy to follow. All phones are different but the basics should be pretty similar.
We do get asked about a Driving with Dogs App and there are two big reasons we haven't done this. The first is that when we last surveyed DwD members in 2018 the preference was for a website, not an App. And secondly, with over 3500+ dog walks listings that are being constantly updated and added to, most people would get exasperated by the constant updating!