Every year a number of dogs need emergency vet treatment after eating strange things on the beach. Here are three hazards to be aware of to help you keep your dog safe on holiday, and doggie basics on the beach for new dog owners.
Palm Oil is washed out of ships when they clean the tanks and can later wash up on beaches. It's a yellowy white colour, and varies in size from small pebble-shapes to football sized bergs and bigger. It has a revolting sweetish smell that dogs love. Palm oil is an edible vegetable oil that's used in a lot of processed human food. The problem with it on beaches is that the oil can absorb other chemicals, such as diesel oil, sewage and harmful bacteria on its way to shore. Palm Oil comes ashore on beaches all around the UK.
What are the symptoms of palm oil poisoning? Common symptoms in dogs include vomiting, diarrhoea, lethargy, dehydration and in some cases pancreatitis – a potentially life threatening condition. Washed up palm oil can also cause blockages within the gut. This is classed as a veterinary emergency and may require immediate surgery.
My dog has eaten palm oil what should I do? Call your vet immediately and take your dog straight to the practice. Depending on the severity of symptoms, age and condition of your pet, it is possible your animal will need to be hospitalised for blood testing, intravenous fluid therapy and supportive treatment.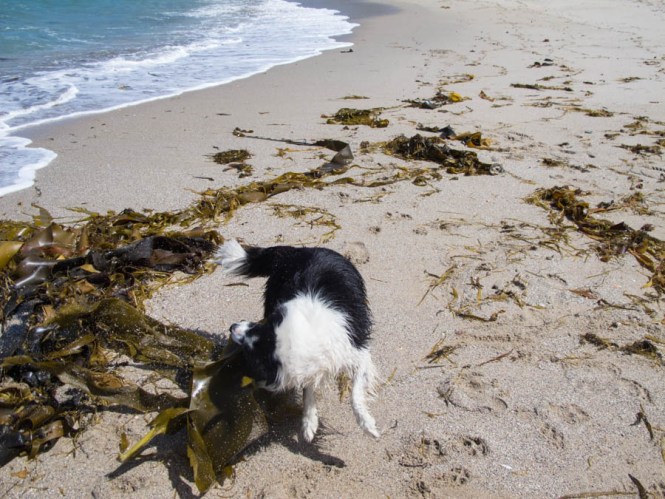 Seaweed Never let your dog eat seaweed on the beach. Dried out seaweed swells up after it's been eaten and can cause a painful and life-threatening blockage in your pet's intestines. If you think your dog has been eating seaweed, take a sample of the seaweed with you and the dog to the vet straight away.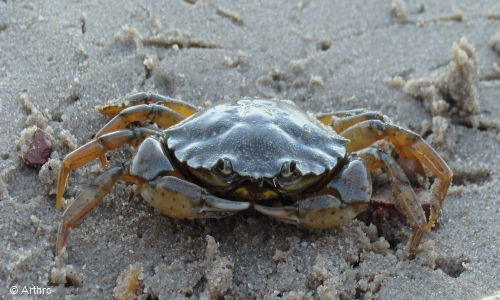 Crabs and Starfish These are not generally toxic to dogs, although it's better to train your dog not to scoff up dead sea animals and fish from the beach. Most dogs are more likely to roll on dead fish and crabs than eat it. But there have been cases on the east coast where dogs have died from eating crabs with a very high level of Paralytic Shellfish Poison (PSP). If your dog is very unwell and you know or suspect he's eaten something on the beach, call your vet immediately and if possible take any remaining parts of the crab or fish for analysis.
New dog-owners If you're a new dog-owner taking poochie to the beach for the first time, don't get caught out with these common doggie beach disasters. And if it happens despite your efforts, don't worry - we've all been caught out at some time!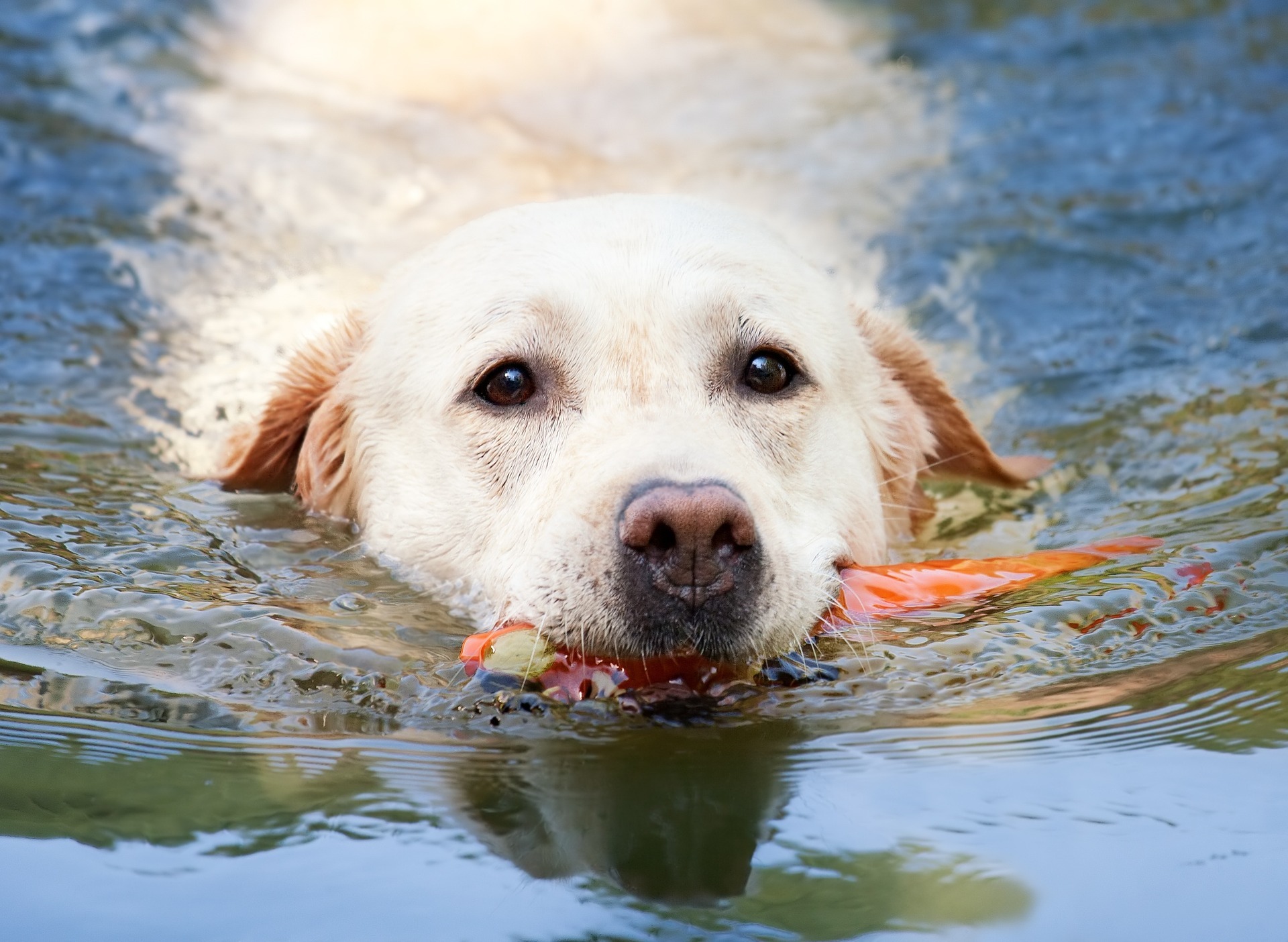 Don't let your dog swallow sea water. Some dogs, like Labradors and Retrievers, are fantastic swimmers and they know to keep their throats closed and not drink sea water. Other dogs with a less nautical background may not know this, and they'll swallow the salty stuff when playing in the sea. So after your dog's had a long session of water games and swimming, be prepared for an attack of runny bum within an hour or so of leaving the water. Going for a walk off the beach is a good way to manage this and there are plenty of walks by beaches on Driving with Dogs to choose from. If your dog has had a seawater attack, make sure s/he drinks fresh water to rehydrate and doesn't over-heat on the beach. There's no easy solution for your deep embarrasment when trying to scoop the mess up and get it off the sand or worse, pebbles.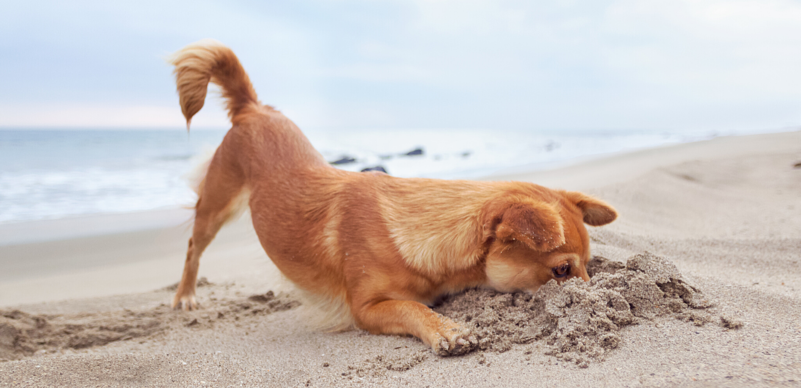 Eating sand is dangerous. Never let your dog eat sand as it can cause blockages in your pet's insides and may involve major surgery to clear the intestines. A bottle of fresh water to rinse off beach toys and balls will protect your pooch from swallowing too much sand.
Take your dog for a walk before you hit a crowded beach. Long, empty golden beaches are great for a dog walk and having fun with Fido. But if you get to the beach when it's already busy, then take the dog for a walk away from the beach to give him a chance to toilet away from other visitors. It's a nice bit of petiquette and also gives you a chance to bag and bin before you get settled.
Driving with Dogs has the biggest collection of tried and tested dog-friendly beaches around the UK and France. All of our selected beaches have up-to-date information for visitors, including parking places for campervans, disabled access, dog-friendly pubs and cafes by the beach and a walk suitable for dogs from the beach wherever possible.