It's the holiday season and time to load up the car with family, bags of stuff and the dog. And we're all doing the same thing, so the roads are busier. Time to think about keeping your family and beloved pets safe. Studies have shown that an unsecured small dog, like our Jem, in the boot will fly forward and through the windscreen in the event of a collision. Many of us have our dogs in crates to prevent this. But the rest of your holiday clobber will still fly forwards onto your passengers, or even backwards onto the dog.
The Driving with Dogs scouts do a lot of mileage and we've recently fitted Guardsman dog guards for additional safety and peace of mind. In our own Skoda Yeti we fitted a guard and also a divider to improve Jem's safety and to keep all the other boot clutter firmly in its place.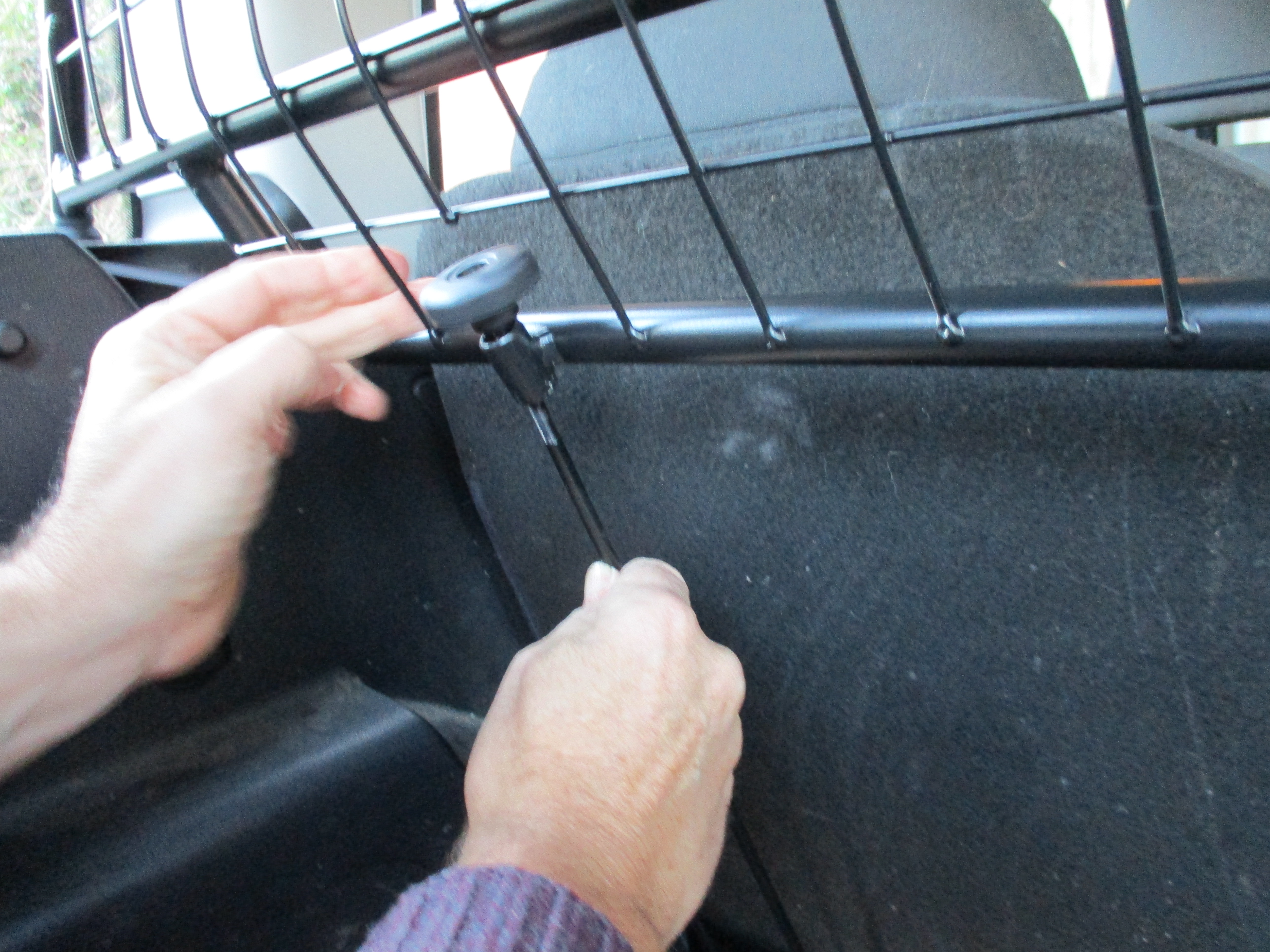 Fitting is easy-peasy, with no tools needed apart from the Allan key that comes with the kit. In less than 10 minutes the guard was in and secure, with no bruised fingers or head-scratching moments. The assembly really is so simple and the instructions are clearly written and easy to follow. You don't need to make any changes to your vehicle. Afterwards I looked at other people's feedback and found dozens of verified 5* reviews from extremely satisfied drivers.
Does it squeak or rattle was the next question. We've not heard the slightest noise from our Guardsman dog guard at all. After a three weeks of hard labour, driving through floods and unsurfaced tracks plus a couple of long motorway trips this new rig has been a huge success and I only wish we'd got one years ago.
Other uses I've found so far include keeping your supermarket shopping tightly stowed with nothing falling over, storing wellies and your outdoor gear in the boot but separate from a wet dog, and helping with garden centre trips and keeping larger plants upright. And I expect more uses will arise as we get used to it.
Guardsman dog guards and boot dividers are manufactured specifically for each make and model of cars. Choosing the right one is very straightforward and uncomplicated on the Guardsman website.
Driving with Dogs members get a discount on Guardsman boot guards and dividers. The code is for members only and you can only see it if you're signed in. It's free to join Driving with Dogs, so don't miss out on your special member discount.
GUARDSMAN was was founded by an ex-member of the Life Guard regiment of the British Household Cavalry in 1964, the company has built a reputation for high quality Car Dog Guards and Boot Dividers. Guardsman are long term suppliers of Dog Guards, Tailgate Guards and Dog Cages to both Guide Dogs and The Dogs Trust.
Driving with Dogs is happy to recommend Guardsman dog guards and boot dividers because we've thoroughly tried ours out and are very happy with the quality and service from the company. We have no commercial relationship with Guardman.
Discount Code

Please Log in to view code