Here are some handy tips to help you cope with wet and muddy dogs in your car or home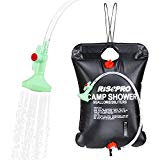 Solar showers are ideal for getting mud off your dog before he gets the chance to shake his muddy love all over you or the car. To get the water warm for sensitive pooches, fill with hot water at home in winter. In summer just leave the water bag in the car while you walk and the sun will warm it up. To use, hang the bag on anything waist height such as a gate, low branch or railings (use a bungee cord or your spare dog lead to secure it) and use the nozzle to target the grime. Always test the temperature before use.
How much? The average price is around £15.00. Where from: You can get these from yacht chandlers (they're called 'deck showers'), camping stores (camp showers) or online from Amazon.
Grubby or wet legs: hoard old socks and use these to cover your hands while you give your dog's legs a good rub and dry. And the tail too if your pooch has long hair. Old walking socks with wool in them work best.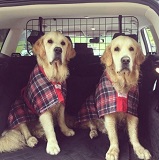 A towelling robe will stop the spray from doggie shakes. You could pop your dog into a ready-made robe after his solar shower - there are some lovely ones around. Jem has a red robe from Dog Robes and he totally loves it. If you find yourself robe-lite - just wrap Fido in a towel that will go around your dog's tummy snugly and tuck in sarong style at both ends. Leave the legs free!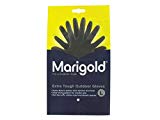 Keep a pair of Marigolds in the car to protect your own hands and sleeves when you're showering the pooch. They're essential car kit for doggie travel mishaps, split poo bags and other horrors! The outdoor Marigolds are lined and last longer. Click here.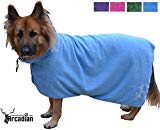 Keep the crate cushion dry. Why let your pampered pooch lie on a damp crate cushion? In winter the crate bed can hold moisture in. Use an old bath sheet to give your pet plenty of layers to dry off on, without getting the cushion wet. It's much easier to wash a towel than a bed! Some people prefer to use a micro-fibre towelling dog-wrap to stop the layers rucking up. Click here.