A boating holiday on the canal is ideal for dogs, children and all the family. Most hire companies welcome dogs on board, and going for walkies along the towpath couldn't be easier. Narrowboats can be hired from centres all over the country and you can either pick a boat up in one place and take it back to another centre, or plot a circular course.
How to prepare pooch for life on board
Dogs have more sensitive ears than humans, and the sound of the engine can be strange at first, especially when you're reversing or manoeuvring into a tight space. A tip we learned was to assign someone to keep the dog company in the saloon, all doors shut, and keep a worried pet away from the helm and topsides. This will reduce the stress on the captain and the dog.
Dogs who love chasing squirrels are likely to cause havoc on a narrowboat when they spot ducks and geese nearby. If possible, take your dog for walks on a towpath well in advance of your holiday and train him to ignore ducks.
Make sure your dog knows how to swim. It's true that dogs can all swim instinctively, but a fall into the water is a shock. A confident swimmer will take it in his stride while a dog who's never learned to swim could develop a lifetime fear of water. Many canine hydro-therapists will run a short session to teach your dog to swim in their pool.
Get a doggie lifejacket and give your dog time to get used to wearing it ahead of your holiday dates. Make sure the jacket you buy has a loop on the back. This is for hooking the dog out of the water with a boat hook. The cheaper jackets are fine for a canal trip. If a major river like the Trent or the Thames is on your route your dog will be safer with a tougher pro jacket.
Poochie packing essentials
Storage space on board a narrowboat is limited, but a dog has to look his best on holiday. Packing for pooch has to include some favourite toys and bedding from home to help him settle. As a guide, this is what we take
Bedding a soft squidgy bed that's washable and rolls up in transit.
A non-slip mat to help your dog feel secure on a strange floor surface. This could double up as a bed. Pets at Home have a selection of washable mats with non-slip backing.
Food Take enough for each day. Try to keep the food exactly the same as at home. A can of sardines or other big favourite to tempt nervous dogs to eat if they don't settle on Day 1. If you feed kibble, store it off the floor to avoid water and damp. Healthy snacks and treats. Food and water bowls. Food mat.
Favourite toys the squeaky one, the tuggy one and a supply of balls. Your dog will know what's necessary here.
Grooming Your dog will probably be running around and swimming much more than usual. Canal water isn't the same as a fresh mountain spring, so it's a good idea to give your dog a quick shower before he snuggles up close. We love this simple and effective shower from Mountain Dog and the pup doesn't mind it either. Remember to brush outside and downwind of the boat to stop dog hair getting everywhere, or is that just a collie thing?
Poop poop! Canals are brilliant for finding dog bins at frequent intervals. Never throw bags into the canals or fields by the towpath.
Getting dry Micro-fibre towels are much easier to wash and dry than traditional cotton ones. We love the PawDaw range of towels and dog bag. Not the cheapest, but unbeatable for keeping dirt, mud, doggie paw prints off the boat. A real stress-saver if your dog might earn you extra cleaning charges.
Like all other crew members, your dog has to know who's the boss! It may take a while to get children into the swing of dealing with lock gates, but the dog can quickly be trained to stay out of the way when manoeuvres are underway. Set up a routine of putting pooch safely in the saloon so the holiday captain can focus on the boat.
Dog overboard The basic rule is to make sure your dog only jumps off the boat with your permission. If you can't trust your dog not to leap in, rig up a safety line to keep him on board and also stop for doggie swimming breaks.
If your dog falls into open water from the bow (pointy end at the front) stop the engine immediately. Delegate someone to grab the boathook and put the hook through the dog's harness. Once the dog is secured you can move him to the towpath side and bring him back on board. Never allow children to try and grab the dog with their hands.
Propellors can be very dangerous to dogs. The prop is at the rear of a narrowboat, and is a 3-bladed heavy metal disc that spins around so you can steer. Make sure your dog does not swim anywhere near the back of a boat when the engine is running.
And finally, relax and enjoy yourselves!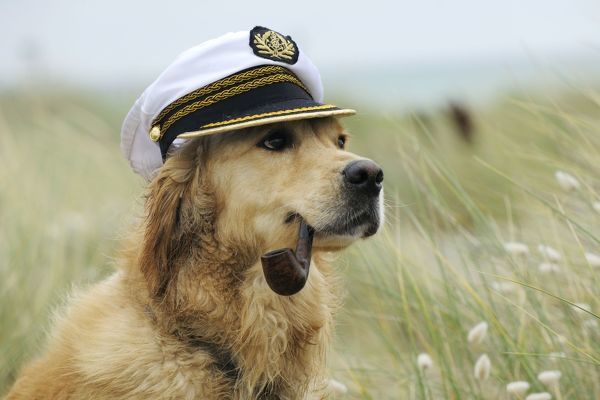 Helpful links to get your holiday planning started
Boat hire
Canal and River Trust has a list of reputable hire companies and lots of information about canals.
Rose Narrowboats Stratford-upon-Avon
Dog-friendly pubs with moorings for canal boats
Driving with Dogs has UK-wide listings of dog-friendly pubs on the waterways and Norfolk Broads
Mountain Dog is our go-to online shop for dog lifejackets and outdoor dog gear.
PawDaw sells the excellent microfibre dog towels and drying bag.