Tiny doggies can be hard to please when you're on holiday, or making a long road trip. Larger dogs will simply tuck into a whole tin of wet food, but little dogs eat differently.
The thing is, once a tin has been opened anything left behind is left-overs. The food loses nose-appeal as the aroma gets dissipated, textures can change and, worse than anything, the next meal is always going to taste like a re-hashed version of the last one. All dogs know this. So if you're trying to kid a petite fussy eater that yesterday's chicken is just scrumptious, give up now - it's never going to work.
Jem invited his tiniest chum, Lola, to check out a Little Big Paw hypoallergenic dog pot. For humans, the size and packaging of the pot is perfect to pop into a handbag. You don't need cutlery to get the food out, one gentle squeeze of the pot and a very tidy terrine is ready for serving.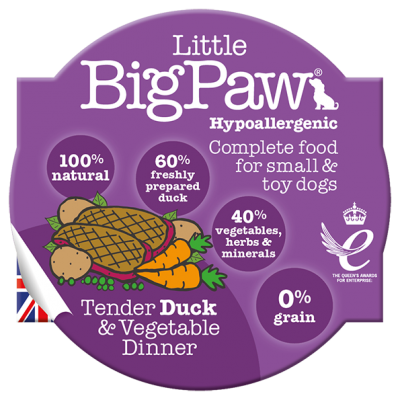 Lola had the choice of three flavours: Tender Duck and Vegetable, Turkey and Vegetable and Steamed Salmon and vegetables. She chose the Duck and totally wolfed all of it. That's a definite PawsUp then!
We'd definitely recommend these pots for camping, travelling and long drives with your petite pet. It makes sense to put one in the car for emergency dog snacking if you're stuck in a long traffic queue. The pot itself could be an emergency dog bowl if you just pull the lid off, so this would be very good for unplanned meals.
Little Big Paw also make larger size packs for bigger dogs. If you have a cat, take a look at the spawgasbord of choices for kitties - also in the small pots and just as good for cat travel.
More information and detailed ingredients from the Little Big Paw website. You can buy direct from their shop, or get LittleBig Paws pots and other products from selected Waitrose and Pets and Home stores.