Twinkling trees, excited visitors and all the turkey trimmings; we're warming up for a wonderful Christmas!
We've had plenty of time to reflect this year on how important family is, and that includes the loyal pet companions that have been by our side through it all.
So, as we deck the halls in preparation for visitors and busy ourselves with festive to-do lists, we must stay mindful of our pets, who find themselves in broken routines and among potentially harmful festive food and decorations.
Sainsbury's have been educating the nation on the festive plants pet owners should avoid, and inspired by this we got to thinking about how to make this Christmas both safe and special for our four-legged family members, so you'll have nothing to worry about but making memories!
You'll know your pet better than anyone, but if you're one of the many Brits who welcomed a new pup during lockdown you may both be unprepared for festive socialising. Get to know more about your breed's personality and quirks. You might also want to read our blog about making your pet's first Christmas extra special.
Routine
Although tis the season of joy and family, having a never-ending to-do list and a lack of routine can be draining and stressful both for us humans and our pets. Dogs like their routines so to minimise any anxiety, it's important to stick to this as much as possible.
If time often gets away from you between baking mince pies and heading out to the shops, set alarms and plan your day around their regular walks and feeds, to let your dog know they're still a priority in your busy life.
If you're visiting family, check out our search function to find the best dog walks in their area. Exploring new routes and exciting new smells will be a welcome treat!
If you're having guests over, likely for the first time in a long time, the added noise, strange smells and new people taking up their fave spots can be stressful for our dogs. Make sure they have a safe quiet space they can retreat to away from the activity and check in regularly on your fur baby.
(Some of) the trimmings
While we're all tucking into a feast that took two days to prepare, it'd be rude not to give our dogs something special too.
It's probably tempting to just dish up a mini dinner in their bowl, or save them the leftovers, but be cautious as many of the trimmings are not dog friendly.
Fatty foods like potatoes cooked in goose fat or butter can cause pancreatitis and onion and garlic ingredients can be toxic. Christmas pudding is also a no-go as small fruits like raisins, sultanas, dates (and the alcohol we soak them in) are harmful to pets.
Keep it simple with some cooked turkey or chicken and fresh vegetables, they'll be delighted!
Christmas Tree
Usually brightly lit and an unexpected new fixture for our pets, it's best to introduce the tree and have it sit undecorated for a day to get them used to the idea. Avoid the flashing function on your fairy lights to minimise drawing attention to the tree or causing any alarm to your pet. Try to keep the trailing wire in an inaccessible corner too to avoid any urge to chew and it's best to turn the lights off whenever your dog is left unattended.
Try to keep any fragile baubles above dog-height, even the calmest of dogs could brush against the tree and cause an accidental breakage, risking injury to paws.
That's a wrap
Wrapping, the time-consuming task best served with a hot choc and Christmas movie! Keep any edible gifts out of reach of doggies and avoid storing these under the tree unless you want to wake up to an empty box and a potentially sick dog (chocolate especially is poisonous so don't take any chances). If your dog is helping wrap (i.e., sniffing boxes and awkwardly standing on your rolls of paper) keep an eye to make sure they don't run off with ribbon to chew.
Have a cracker
Because of their acute sense of hearing, the sudden snap of a cracker can be frightening for a dog. If you choose to pull crackers as part of your traditions, it's best that your dog is comfy and safe in a separate space to avoid any fright. The same goes for high energy games as the unusual noises and excitement can be alarming, so try to stick to calmer activities when your dog wants to share in the fun.
Under the mistletoe
Poinsettias are increasingly popular as Christmas table centre-pieces, but they're poisonous for dogs. If you're set on having poinsettias in your festive repertoire, make sure it's out of reach of pets just in case they get the temptation to nibble. The same goes for holly and mistletoe, although traditionally mistletoe is kept above head height so if you're sticking to traditions this shouldn't be an issue!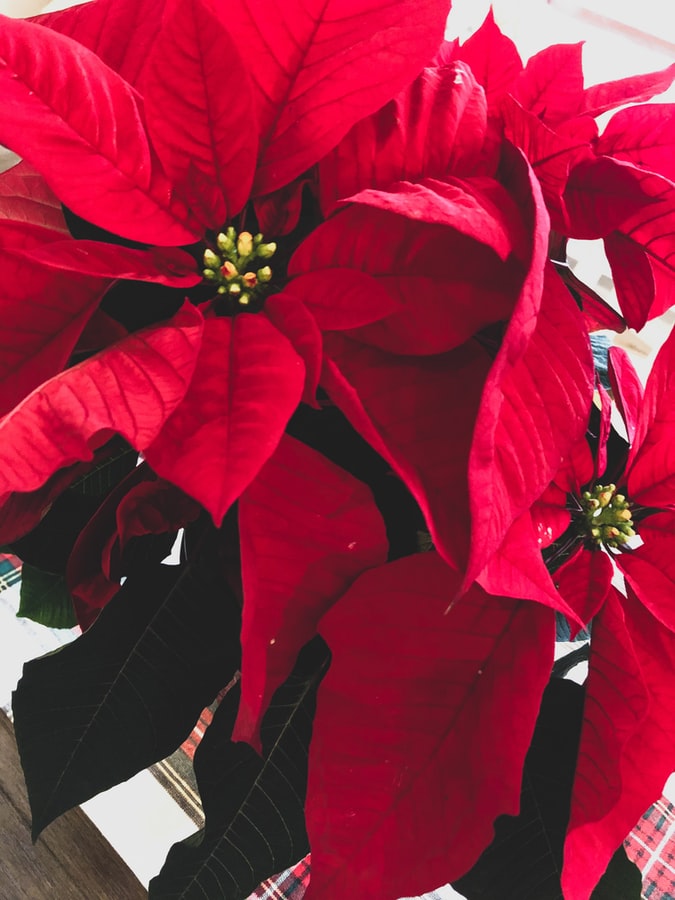 We hope you have a wonderful and safe festive season!