Being discharged after a month-long stay in hospital 5 years ago following a suicide attempt I was still at rock bottom; then Alfie – a scruffy, grumpy terrier from a rescue-centre chose us to live with and life began to change for the better.
No longer working, I was time-rich but cash-poor but this inspired me to design and make things that Alfie needed; so my grandma's 1932 hand-wound Singer sewing machine was brought out of the cupboard and put to good use making toys and bedding for him. Soon, people were asking me to make items for their homes and pets and this one-woman-and-her-dog business was born.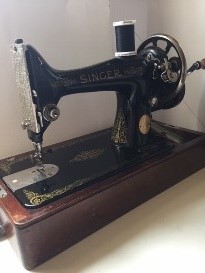 Now I hand make a range of pawfectly purrfect products for pets and pet-lovers. This still includes sewing bandanas, bedding and toys but I've embraced other craft mediums to make cards, key rings and wooden signs too and I'm enjoying learning these new skills. My products are available to buy via Social Media and a fortnightly stall inside the historic market hall in Sandbach, Cheshire where we live.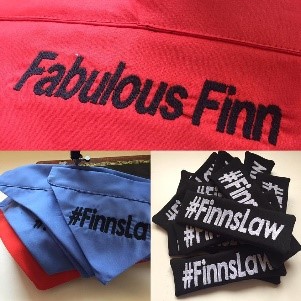 I've also been involved with helping to change UK law as I made the bandanas and harness logos for the #FinnsLaw campaign to change the law to protect all service animals> You may have seen Finn on Britain's Got Talent and learnt about the campaign then; however, I was there 2 years ago with the first bandana and when the law came into effect in June this year I was privileged to attend an event at the Houses of Parliament in June this year– something that I'm incredibly proud of. I am also involved with the DogBus charity – making bandanas to advertise that the dogs are up for adoption when the volunteers are out walking them, and make items for three different retired Police Dog Charities for them to raffle of to raise much-needed funds.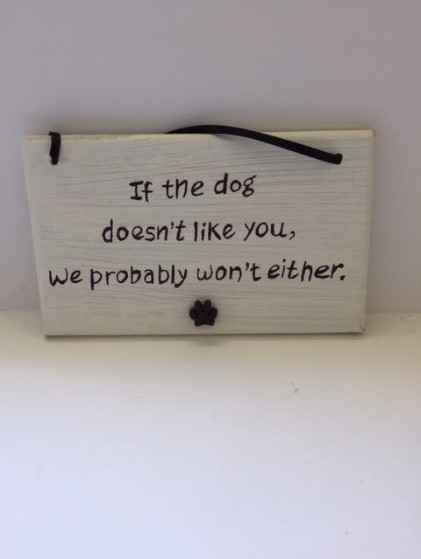 Alfie's there with me in my craft room every day keeping me company and inspiring me. He's a wonderful model for the bandanas I make too. Focusing my mind on creativity is good for my mental health and my ability to socialise with people is improving. I'm not sure who rescued who, but as my small business slowly grows with Alfie by my side I can honestly say that life is pawsome!
To see more of Clare's work visit her on Facebook