The Driving with Dogs team have been sniffing for new dog walks in Shropshire this summer and are looking forward to visiting it again soon. We've added quite a few new dog walks and dog-friendly pubs to Driving with Dogs, and more will follow. Keep checking the site for latest updates, and if you know some good walks you can earn Treat points by adding them yourself.
Shropshire is a surprisingly enormous county. Yet people seem to dash through on their way to somewhere else, to north Wales, Manchester, and Birmingham usually. Shropshire is full of amazing places to walk with your dog and we can't wait to get back and find more lovely walkies.
The hills on the Welsh border are beautiful and the Wrekin, the Clee Hills, the Long Mynd and Wenlock Edge are fabulous, as well as the gentle flow of the River Severn, not to mention Offa's Dyke. It's just glorious for dogs and humans alike.
Just published is this beautifully crafted book of walks in the south of the county.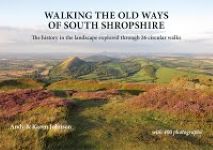 Also, Countryside Books have published Shropshire: a Dog Walker's Guide by Judy Smith which includes 20 walks around the county. It's available through the Driving with Dogs book shop.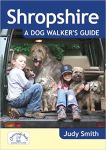 So next time you're charging along the M54, the A5, the A49 or any of the other major roads with your dog in the back of the car, remember to check for doggiestops on Driving with Dogs and take time out in the splendid county of Shropshire. You won't be disappointed.