We gave up ski flights long before we had dogs. From the UK's south coast, driving to the Alps is almost as quick as flying – just add up the hideous 4am check-in and hours of transfer faff. If you drive, it's a road trip. Part of the holiday. It's fun – and best of all – you can take your dog(s)! This is our fourth ski season with Cavapoos, Kai, Rosie, Ruby and Lani, so here are some quick tips for getting Paws on Piste.
Cross-Channel Options
Eurotunnel – your pooches stay in the car with you.
Ferry – these operators carry pets in kennels or in your car. Brittany Ferries now has pet-friendly cabins on some French crossings.
Where to Stay Ovo Network, IgluSki and The Travel Myth Blog all list pet-friendly ski accommodation in Europe, as do Booking.com and Pet Friendly Accommodation.
Where to Go We love Monte Rosa, Italy, which prides itself on being dog friendly. With muzzles, dogs can travel on the gondolas, cable cars and shuttle buses. Dogs are also welcome in many mountain huts. We ski in the morning and walk after lunch, when it's warmer.
Where to Walk Winter walkies are prone to the same hazards as off piste skiing, so check locally where is safe to walk. Most resorts have pisted, marked and avalanche-protected Nordic ski and snow-shoe tracks, which are ideal. We have seen dogs bounding down the edge of the piste with their owners, but this is not permitted in most resorts.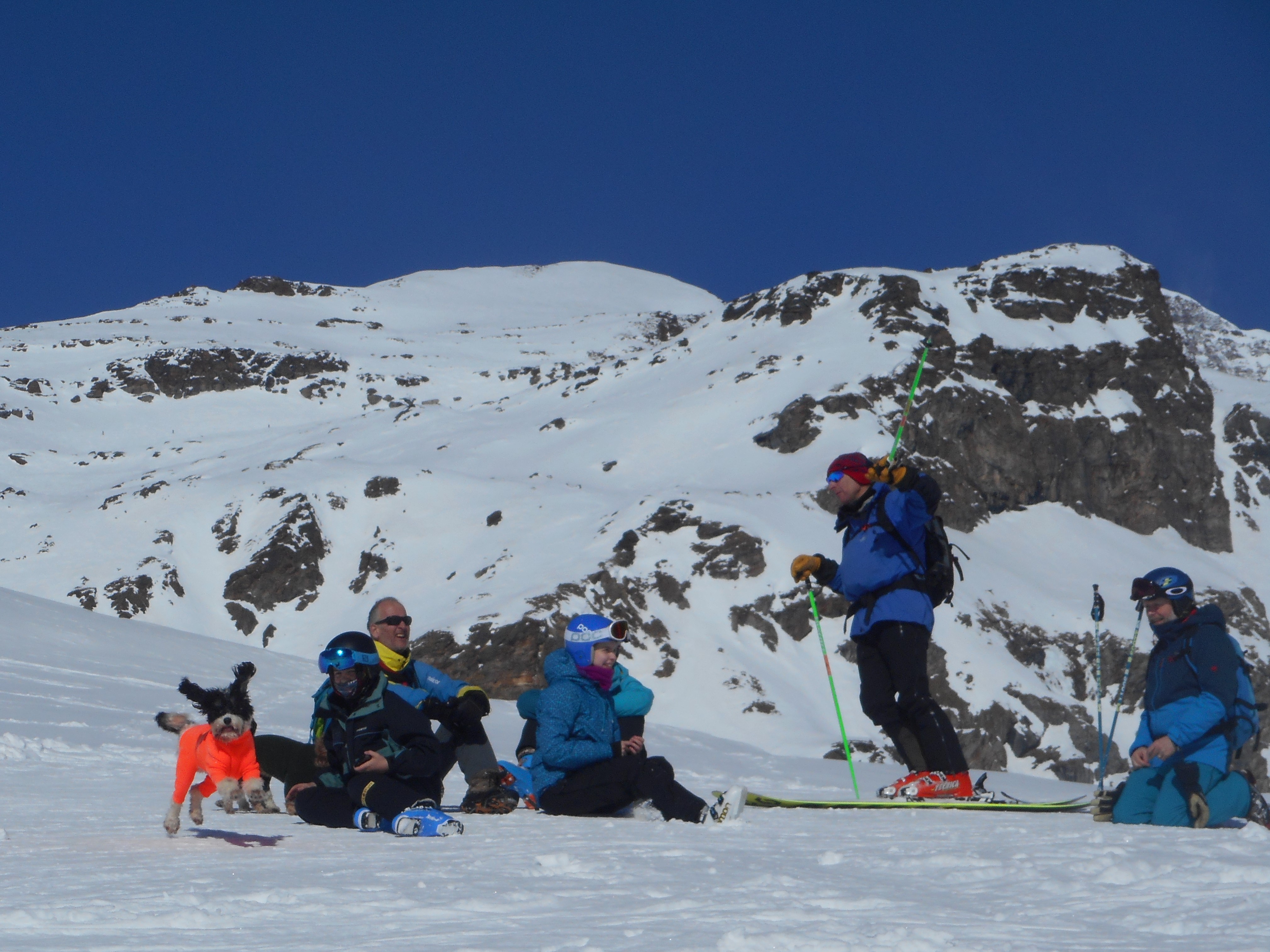 What to Wear
Humans – our petite pups can't walk through deep snow, so snow shoes are not necessary. Hiking boots fitted with YakTrax for extra grip work for us. Take layers of warm, thermal clothing, snacks, water for you and pups and a mobile phone programmed with the emergency number.
Pups – when it's very cold, The Pawsome Foursome wear Equafleece Polartec™ wicking dog jumpers, which fit closely to keep out snow. Boots are unnecessary - and don't stay on. In four years of applying paw wax, we have not had a single chapped or cracked pad.
Winter walkies add a wonderful dimension to a ski holiday. Another way to enjoy the snowy landscape – and great for stretching those skiing muscles.
Wow. Did you hear that? The mountains are calling. You must go!
Jackie is an author and blogger. For more information on taking your dog abroad, walks and winter hazards for dogs, see the Ski section of her entertaining and informative blog WorldWideWalkies
"Laugh out loud funny and a great travel guide" - just one of the five-star reviews of Jackie's 'Adventure Caravanning with Dogs' series of books. Available from the Driving with Dogs bookstore, they are the perfect stocking-filler for all dog and travel lovers.